Episodes
Wednesday Aug 02, 2023
Wednesday Aug 02, 2023
From the cache! Until an all-new episode premiers this October, please enjoy this recast. Bob Ross, American painter and iconic TV host of the 80s and 90s, famously told us that there are no mistakes, only "happy little accidents." There are numerous examples of history happening by accident--archaeologists accidentally stumbling upon a find, scientists accidentally discovering a breakthrough--and today we explore four such stories.
First, we travel to 1856 when a teenager accidentally discovered mauve and synthetic dye while he was on vacation, which led to the pioneering of immunology and a Nobel prize. Then we head to 1940s France, when a group of teenagers chasing after a dog accidentally stumbled upon Lascaux cave, one of the greatest prehistoric finds of all time. Then we travel to 1767 to visit the Ayutthaya kingdom just before it was invaded by Burma. Almost 200 years later, a seemingly unremarkable statue pulled from its ruins finally tells its secrets: the Golden Buddha or, Phra Phuttha Maha Suwana Patimakon, is now one of the world's most famous statues, and if it hadn't been for an accident in the 1950s, we would all still believe it was made of nothing more than plaster and colored glass. Finally, we skip ahead all the way into the 2000s for a look at some accidental breakthrough MS research.
Come join me as we uncover some of history's most incredible happy little accidents.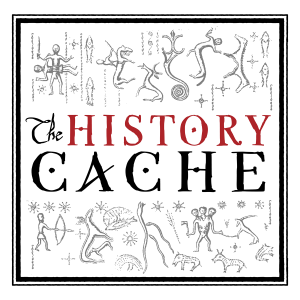 Wednesday Oct 16, 2019
Wednesday Oct 16, 2019
In this episode we explore history's first monsters. From the prehistoric beasts that stalked our ancestors to the first mythological oral traditions, then to the first ancient written accounts through the modern day; this is the history of what scares us. What were the first monsters, why do we fear them, and why do we need them? Let's find out and examine the first things that appeared from the darkness.